Here are some of my favorite EMERGENCY! episodes!! For a great slide show of these and more, Please visit Tigger's Slide show Central! Another great E! site!

Produced by Jack Webb's Mark VII Productions, the program followed two Los Angeles County Fire Department paramedics, Roy DeSoto (Kevin Tighe) and John Gage (Randolph Mantooth). Assigned to Rescue Squad 51, they were assisted at Rampart Hospital by Dr. Kelley Brackett (Robert Fuller), Nurse Dixie McCall (Julie London), Dr. Joe Early (Bobby Troup) and Dr. Mike Morton (Ron Pinkard), and at Station 51 by Capt. Hank Stanley (Michael Norell; seasons 2-6 ó Dick Hammer played Capt. Hammer during season 1), Firefighters Chet Kelly (Tim Donnelly), Marco Lopez and Mike Stoker.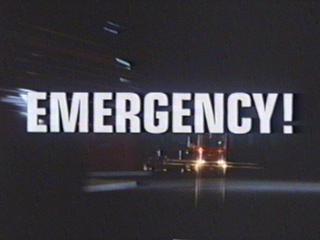 Season1

Pilot [aka: The Wedworth-Townsend Act]


Airdate: 1/15/72
Writer: Harold Jack Bloom and R.A. Cinader
Director: Jack Webb
Guest Cast: Martin Milner, Kent McCord, Jack Kruschen. Ann Morgan Guilbert, Lew Brown, Art Balinger, Virginia Gregg, Herb Vigran, Colby Chester, Kathryn Kelly Wiget, Don Ross.

Roy convinces John to join the paramedic program. They must deal with the opposition from both medical and civil authorities, including one of their staunchest opponents: Dr. Brackett. Eventually seeing the advantages of the program, his testimony proves the key to getting paramedic legislation passed. The paramedics assist the victims of a car accident (including Dixie, who is injured at the scene) and rescue workers from a tunnel cave-in.

Note: This was a 2-hour episode, which was re-aired in a two-part frame format: returning from a run, Roy and John recall how they became paramedics.

Where it allll began!!

Airdate: 3/1172
Writer: Michael Donovan
Director: Christian Nyby
Guest Cast: Gene Raymond, Gary Crosby, Sallie Shockley, Barry Higgins, Ron Pinkard, Bill Baldwin, Edith Diaz, Scott Allen, Ted Gehring, William Bryant.

John is envious of the publicity given to another paramedic. After Roy and John rescue a man trapped in ship's rigging, John gets seasick. Dr. Brackett clashes with a tycoon over a diagnosis. The paramedics rescue a horse from a ditch and a child stuck in a well.

Isn't that always the way! The truely hard working never get the credit they deserve!

Season2

Virus




Airdate: 10/7/72
Writer: Daryl Henry
Director: Lawrence Dobkin
Guest Cast: Skye Aubrey, Dennis Patrick, William Gray Espy, Jean Allison, Patricia Mickey, Cathy Lee Crosby, Mitch Carter, Vic Vallaro, Philip Brown, Vince Howard, Deidre Hall.
A sick lady with a monkey provides the key to a mysterious, highly contagious, and deadly virus that strikes both Dr. Brackett and John Gage. Meanwhile, the firemen rescue a boy from a tree house and a man from a scaffold.
Poor Johnny!
Season3
Airdate: 9/29/73
Writer: Preston Wood
Director: Christian I. Nyby, II
Guest Cast: Michael Conrad, Ross Elliott, Laurette Spang, Regina Parton, Ann Doran, Raymond Mayo, Lorraine Baptist, [Yvonne Craig, Don Ross].

Roy and John buy an old fire engine, and Station 51 gets a new engine. A woman overdoses on LSD and Roy tries to talk her down, leading the two paramedics on a chase to the top of a building. Brackett treats a resilient gunshot victim. A politician suffers a heart attack and the station responds to a warehouse fire.
I like this one because they truly are enjoying their new find and have given this treasure a new home!
Alley Cat

Airdate: 10/6/73
Writer: Charlene Sukins
Director: Alan Crosland
Guest Cast: Brooke Bundy, Lee Bergere, William Challee, Virginia Gregg, George Ives, X Brands, Nelson Olmstead, Shirley O'Hara.
A stray cat decides to have her kittens on John's bed at the station. A family is trapped in a downed airplane; an old man gets his foot caught in a bear trap; a stage actress suffers an anxiety attack; a school develops a gas leak; Roy and John rescue the victim of a boating accident.
Well, what can I say, I LOVE CATS!!
Snake Bite







Airdate: 10/27/73
Writer: Carroll Christensen
Director: George Fenady
Guest Cast: Richard X. Slattery, Reta Shaw, Johnnie Collins III, William Bryant, Tony Haig, Laurie Brighton, [Don Carter, Jill Chandler, Sarah Fankboner].
Returning from a fishing trip, Roy, John, and Chet help the victims of a car accident. On duty, after rescuing some joy riders whose car went over a cliff, John is bitten by a rattlesnake.
Poor Johnny! Great job treating yourself!
Insomnia
Airdate: 11/10/73
Writer: Robert Hamner
Director: Dennis Donnelly
Guest Cast: Ronnie Schell, Dick Yarmy, Hal Lynch, Stephen Manley, Lee Farr, Joe Pizzorusso, Jim Nolan, [Craig Chudy].
A boat has an explosion aboard en route to the marina. John obsesses about the lack of night runs and can't sleep. A man and his son are injured when they swerve to avoid a dog. Doctors race against time to save a marijuana smoker dying of an unidentifiable malady. A worker is pinned in a loading dock by a semi. A man and child fall into a gravel pit.
I love the part at the end where Johnny FINALLY falls asleep on the back of Engine 51!
Season4
Camera Bug
Airdate: 11/23/74
Writer: Rick Mittleman
Director: Richard Bennett
Guest Cast: Ron Masak, Dianne Harper, Peter Leeds, [Tyler Henderson, Adrian Ricard, Mary Rings].
John thinks he can be a photographer and pesters Roy for candid shots. A teenager suffers smoke inhalation at an elementary school structure fire. A fireman thinks he's having a heart attack, but it's really just his chili. A woman is bitten by a scorpion. Dixie has 'one of those days' as she and Dr. Brackett deliver a baby in a restaurant on their lunch hour. The driver of a truck full of dynamite is pinned behind the wheel of his vehicle as it catches fire.
I am also a camera bug! I love taking pictures!
The Firehouse Four

Airdate: 11/30/74
Writer: John Groves
Director: Joseph Pevney
Guest Cast: Lennie Winerib, Charles Knox Robinson. Joanne Meredith, Linda Dano, Peter Colt, James Kline.
The station (sans Roy) enters the fireman's barber shop quartet contest. A man keeps having to be rescued while trying various ways to exercise. A woman overdoses on sleeping pills.
really, they can sing!?
Parade





Airdate: 12/21/74
Writer: Preston Wood
Director: George Fenady
Guest Cast: Phillip Pine, Stan Adams. Timothy Blake, Peggy Mondo, Laurie Burton, Jan Arvan, [Stuart Nisbet, Yvette Vickers].
Roy and John finally restore their old fire engine to ride in the California Fire Fighters Parade. A man with heart problems insists on driving, and causes an accident for which the other driver blames herself. Dr. Early treats a patient who has a seizure in the waiting room. A man on a date passes out and has difficulty breathing; the doctors search for the cause. A childís medical condition causes an argument between his divorced parents. Driving to the parade in the old engine, the paramedics respond to an actual emergency.
What a great looking restored Fire Engine! Loved Johnny & Roy's FF costume! They looked sharp!
Season5
Involvement
Airdate: 1/24/76
Writer: John Groves
Director: Dennis Donnelly
Guest Cast: Anne Seymour, Dawn Lyn. Jean Allison, Milton Frome, Del Monroe.
Rampart's former emergency department head nurse tries to commit suicide; she is brought to Rampart, where she befriends a paraplegic child who almost drowned in a swimming pool. Also: a woman wrapped in plastic, a family suffering from carbon monoxide poisoning and a man pinned under a tank truck containing volatile fuel.
How sad that it really is true how some people feel useless after they retire. I say, volunteer!!!! You'll love it! Try Make A Wish, it's a great place to volunteer!
Above and Beyond ... Nearly
Airdate: 1/31/76
Writer: Preston Wood
Director: Christian I. Nyby II
Guest Cast: Lucille Benson, Liam Dunn. Florence Lake, Linda Danno, Kristin Larkin, Grant Goodeve, [Richard A. Houtz].
Roy and John receive commendations for bravery, but they can't remember the incident. A 94-year old man breaks his ankle while dancing. Dr. Brackett treats a man who passed out in a dentistís chair. An injured mountaineer is stranded on a cliff.
My comment: They should have received this many episodes ago!! Seriously, all our FF's & EMT's deserve everyday commendations for a job well done!
The Nuisance







Airdate: 3/6/76
Writer: Robert Hamilton
Director: Randolph Mantooth
Guest Cast: Gretchen Corbett, Carole Cook, James G. Richardson. Joan Shawlee, Coleen Gray, Joseph Perry.
After the squad helps a non-responsive lady on a barstool, John is hit by a car, leaving Roy stuck with a very annoying replacement. Together, they respond to a victim with chest pain. At a structure fire, Roy and Marco are injured but Brice escapes unscathed.
OUCH! Poor Johnny! Well, I loved this episode & Snakebit the best! Why is it we love to see our favorites hurt & then recover!! LOL
On the bloopers tape, Randy tips his wheelchair over by accident!
Season6
Fair Fight
Airdate: 10/30/76
Writer: Preston Wood
Director: Kevin Tighe
Guest Cast: Terry Kiser, Anne Schedeen. Delos V. Smith, Jr., Jack Bender, James Ingersoll, Vernon Weddle, Vince Howard, [Connie Lester].
The crew finds a droopy-eyed hound dog in the station; at an industrial fire, Gage and DeSoto check a secret room for victims; a "therapeutic" argument between a husband and wife keeps getting out of hand; while attempting to rescue two injured workers, Johnny is trapped in a tunnel cave-in.
WELCOME Henry! Loved that lazy, ol' dawg!
Insanity Epidemic
Airdate: 2/5/77
Writer: Robert Hamilton
Director: Randolph Mantooth
Guest Cast: Robert Pratt. Ellen Moss, Bill Zuckert, Nancy Fox, Vince Howard, Vincent St. Cyr, Betty Ann Carr, [William Boyett].
Captain Stanley freaks out when he learns one of his past captains is now his Battalion Chief, causing the others to worry about their his increased paranoia. Two menís carelessness starts a fire at a gas station. A new hospital administrator causes problems. A woman accidentally shoots her husband with a nail gun. Two clowns start a fight at an ice rink. A car leaves an overpass and crashes into a transfer truck filled with pesticides.
I love how Capt.Stanley freaks out! Mr.Norell, you're a funny actor !
Upward and Onward
Airdate: 4/2/77
Writer: Michael Norell
Director: Dennis Donnelly
Guest Cast: Leon Ames. Dabbs Greer, Tom Williams, Tabi Cooper, William Boyett.
Capt. Stanley worries that the Chief will sabotage his attempt to pass the Chief's exam because of an incident in their past; a soap opera doctor with mono causes havoc on the set and in the hospital; John, Roy, and a retired doctor with a self-diagnosed heart aneurysm get stuck in an elevator.
You should never have doubted yourself, Capt.! Great writing, Mr.Norell!
Hypochondri-Cap
Airdate: 4/16/77
Writer: Bruce Shelly
Director: Dennis Donnelly
Guest Cast: William Bryant. George Brenlin, Bette Ford, Vince Howard, William Boyett, Lani Gustavson, Abraham Alvarez.
Capt. Stanley convinces himself he has arthritis. I love his
! He's a funny guy! A man gets his hand caught in his garage door opener; a woman passes out and has an auto accident; the doctors treat a woman infected from plastic surgery gone awry; Johnny tests a new type of rope; the station responds to a two-alarm fire at an oil refinery.
Poor Capt.!
Season7
Greatest Rescues of Emergency!
Airdate: 12/31/78
Writer: R. A. Cinader
Director: R. A. Cinader
When Johnny and Roy are promoted to Captain, they reminisce about their years working together. Flash-back sequences include the rescue of airplane passengers after a crash-landing, a potential suicide threatening to leap from a crane tower, and a girl whose toe is stuck in a faucet.
Pretty good episode. Fun to reminisce!
Complete list of Episodes
SEASON ONE
Emergency!, 2 hours (pilot movie)
[a.k.a.: The Wedsworth-Townsend Act]

Mascot
Brushfire
Crash
Dealer's Wild
Nurses' Wild
Cook's Tour
Publicity Hound
Hang-up
Botulism
Weird Wednesday
Dilemma

SEASON TWO
Virus
School Days
Problem
Dinner Date
Peace Pipe
Saddled
Kids
Drivers
Show Biz
Fuzz Lady
Women
Helpful
Trainee
Richter Six
Musical Mania
Boot
Syndrome
Seance
The Professor
Honest
Rip-Off
Audit

SEASON THREE
Frequency
The Old Engine
Floor Brigade
Heavyweight
Alley Cat
Snakebite
Zero
The Promotion
The Hard Hours
Computer Error
An English Visitor
Insomnia
Body Language
Inferno
Inheritance Tax
Messin' Around
Fools
The Promise
Understanding
Green Thumb
The Long Weekend
Inventions
Propinquity

SEASON FOUR
Gossip
I'll Fix It
Camera Bug
Quicker Than the Eye
Kid Stuff
Surprise
The Screenwriter
It's How You Play the Game
Fugitive
The Parade
Foreign Trade
Nagging Suspicion
Details
Magic
Blind Date
Quartet
Smoke Eater
The Bash
Transition
905-Wild
Back-Up
The Mouse
SEASON FIVE
The Lighter-Than-Air Man
The Old Engine Cram
Election
The Indirect Method
The Stewardess
To Buy or Not to Buy
The Inspection
Equipment
Communications
Pressure 165
The High Rise
Simple Adjustment
Tee Vee
On Camera
The Tycoons
One of Those Days
The Girl on the Balance Beam
Grateful
Involvement
Right at Home
The Great Crash Diet
Above and Beyond....Nearly
The Nuisance
SEASON SIX
Insanity Epidemic
Breakdown
Fair Fight
The Unlikely Heirs
That Time of Year
The Game
Rules of Order
Loose Ends
Captain Hook
Family Ties
The Exam
Not Available
Paper Work
An Ounce of Prevention
Bottom Line
Welcome to Santa Rosa County
Computer Terror
Firehouse Quintet
Isolation
Onward and Upward
Limelight
Hypochondri-Cap
All Night Long
The Boat

TWO HOUR MOVIES
Survival On Charter 220
The Steel Inferno
Whatís a Nice Girl Like you DoingÖ?
Greatest Rescues of Emergency
Medic I: Seattle (aka Most Deadly Passage)
The Convention