Photo Album (home)
Make A Wish softball Game 2000
Welcome to my EMERGENCY! web site!
A page dedicated to the beloved stars of the EMERGENCY! TV series,1972-1977



The hour-long drama series, Emergency!, was created by Jack Webb. Inspired by an experiment that began in 1969, Emergency! was praised by U.S. Senator Alan Cranston for educating the public about the value of real-life paramedics. Emergency! was a show about 2 Los Angeles County Fire Department paramedics, John Gage and Roy DeSoto who together teamed up as Rescue Squad51. Along with the crew from Engine Company 51 and the staff from the Emergency Room at Rampart General Hospital, Squad 51 saved people from fires, auto accidents, natural disasters, sofa beds, sinks and more. Emergency! made its World Premier on Saturday night January 15, 1972, as a midseason replacement, and ran until 1979, and can still be seen on TV Land at 8p.m. EST daily. After the series' regular run, six two-hour movies aired at irregular intervals during 1978 and 1979.
You may also purchase Emergency videos Columbia House, first video is $4.95 each one after that is 19.95. Two episodes per video.
Station 51 This is the Fire station 127 aka 51 that was used in the TV series EMERGENCY! from 1972 to 1977. Station 51 was actually station 127, is located on 223rd Street. South of Wilmington Ave., in the city of Carson, California about 17 miles south of downtown Los Angeles.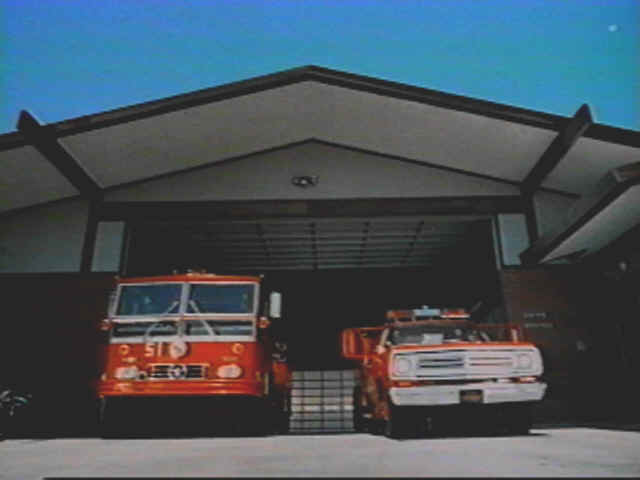 | | | |
| --- | --- | --- |
| | | |
| | Alley Cat & crew | |
| Monkey see, monkey do! | | |
| | | Tim Donnelly & Henry |
| "Roy, Dr.Brackett, Dr.Early,Johnny Gage, Dixie" | Kevin & Robert, (2000) | |
| Cast 1999 | Bobby, Julie & Robert | |
| Randy & Tim (1999) | 2 of our hero's | Kevin Tighe |
| | Kevin ( Roy) | Patches |
| Engine 51, La Ward France Crown Pumper | | |
CHARACTERS and CAST
Firefighter/Paramedic Roy DeSoto (Kevin Tighe)
Firefighter/Paramedic John Gage (Randolph Mantooth)
Dr. Kelly Brackett (Robert Fuller)
Nurse Dixie McCall (Julie London)
Dr. Joe Early (Bobby Troup)
Captain Hank Stanley (Michael Norell)
Dr. Mike Morton (Ron Pinkard)
Firefighter Chet Kelly (Tim Donnelly)
Firefighter Marco Lopez (Marco Lopez)
Firefighter Specialist Mike Stoker (Mike Stoker)